There are now over 500,000 iPhone apps and 170,000 iPad apps available on Apple's App Store and that number will surely continue to increase as new app developers enter the foray. In March 2012 Apple's App Store surpassed its 25 billionth download. If you're not already buying apps regularly, you probably will be soon. Here are some tips that may help you save some money on your App Store purchases.
Buy Apps With iTunes Gift Cards
Various retailers frequently offer Apple App Store gift cards at discounted rates. Load up on discounted iTunes Gift Cards whenever you can – it's free money. You may have noticed that there are different "types" of Apple gift cards such as iTunes Gift Cards, App Store Gift Cards, and iBookstore Gift Cards. The designation is meaningless – the difference is purely for marketing purposes. They're all iTunes Store gift cards and you may use any iTunes Gift Card (not the Apple Gift Card, which is for Apple merchandise) to buy apps for your iPhone or iPad.
There are plenty of places to find discounted iTunes Gift Cards. Discount superstores such as Sam's Club typically offer 15%-20% price reductions. Best Buy offers discounted iTunes gift cards from time to time as well. Check out woot.com or dealmac.com (thanks to a reader who commented on a previous post for pointing this out) to find new deals. Moreover, purchasing your iTunes Gift Cards in conjunction with certain credit card rewards programs may further boost your savings. Stock up on discounted gift cards; they never expire. Over time, the 15%-20%+ you're likely to save will add up.
Get the AppShopper App And Always Be On The Lookout For Deals

AppShopper is one of the best resources for keeping track of app news and deals and finding apps temporarily offered for free. The AppShopper App is feature-rich and very easy to use. It gives you far more power than the standard iTunes App Store. With the AppShopper App you can easily browse apps by category, price, and device type. You can even filter results by criteria such as the type of update made to the apps. For example, within a particular search you can display only the newest apps or only those apps that have recently had a price drop.
For those of you that own both an iPhone and an iPad you may also want to pay particular attention to the device type of the apps you purchase because buying a universal version of an app may be cheaper than buying the iPhone and iPad version separately. Just be deliberate when you choose which version of app to buy.
Our favorite AppShopper feature is the Wish List. The Wish List gives you the ability to monitor apps that you want to keep an eye on. The feature will notify you when certain events occur. Find an app you want, but don't like the price? Add it to your AppShopper Wish List and AppShopper will notify you when that app undergoes a price change. You can specify the Wish List to notify you of only certain types of updates (i.e. price drops only) and you can also specify how the Wish List will notify you of the change (i.e. via Push Notifications or email).
Get Apps While They're Free – Be An App Hoarder

You should always be on the lookout for promotionally free apps. App prices change all the time and just because an app is free right now doesn't mean that it will stay free. As discussed above, AppShopper is a great way to survey the App Store landscape. Whenever you see a free app that you think you may like, go ahead and download it and give it a try. If you decide that you don't like it you can always delete the app from your device.
The benefit of always installing free apps is that if, at some point in the future, you decide you do want that app you can re-download it free of charge even if its price has subsequently increased. This is because the app will be registered as having been "purchased" on your Apple ID and, therefore, you will not be required to re-purchase it on any device bound to that Apple ID. We recently tested this by obtaining the Tetris app for free through a Starbucks Pick of the Week coupon (be sure to grab these whenever you see them) and deleted it shortly thereafter. Today, Tetris is a $0.99 app, but because we previously installed the app it is free for us to re-download and install.
There doesn't seem to be a time limit for this either. We downloaded an app called Air Sharing for iPhone & iPod touch for our 1st Generation iPod Touch back in December 2008 when it was a free app. Today the app costs $6.99, but it is free to re-install on our iPhone 4S, which is bound to the Apple ID that had originally downloaded the free app.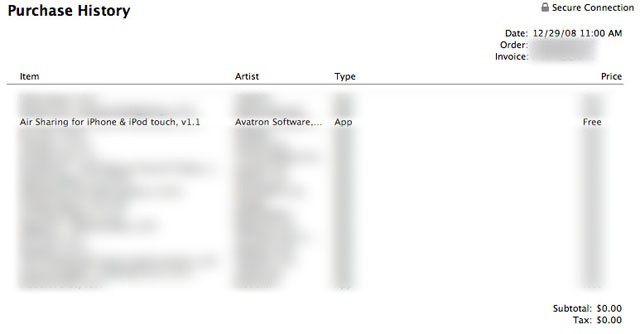 The two caveats for this strategy are as follows. First, installing apps takes up hard drive space and, therefore, you may need to be proactive about how you manage your device's free space. Second, whenever you install an app you grant it certain access rights to your personal data. While Apple has been fairly proactive in regards to ensuring app developers don't misuse your personal information, you should be aware that some personal information may be shared through the apps you download and use. Be sure to exercise some discretion when choosing apps to install.
Do you have any additional tips for saving money when purchasing apps? If so, we would love to learn about the strategies you have been using.