On first sight, the Yaro digital audio system looks unpromising. It's an amplifier/speaker set from Kanto AV Systems that's small, black and looks like something Spinal Tap might use on a farewell tour.
But it turned out to be about the loudest, most responsive, richest, most faithful sound-media player I've heard.

The Yaro is the new speaker system from Vancouver-based Kanto AV, specifically designed to work alongside new media systems such as the Apple TV, Roku, and Boxee.
Home media is moving away from traditional stereo setups and is going digital, with media increasingly streamed from the net or connected iPhones and iPads. The Yaro, with digital inputs only, caters to that.
In marketing materials, Kanto AV suggests combining the Yaro with an Apple TV and a 32″ LCD TV to set up a complete, high-quality modern media system for under $1,000.
Kanto is a young company (it's been in business four years) that has been slowly developing its brand as an iPod/iPhone-specific speaker company. With their two digital audio inputs, Kanto speakers can also be used with practically anything else that makes a noise, such as mobile phones, video game consoles, computers, televisions, and digital radio and satellite receivers. Its current speakers, the iPair 5 and SYD 5, have grown into well-regarded and very well-reviewed units loved by a growing customer base.
With the company expanding and moving with its customers as they change the way they consume media content, a high-quality amp with core technology licensed from Bang & Olufsen is offered to complement the speakers. Priced at $329, Kanto believes that the Yaro will open up a new market.
OK let's check it out. Like the Model T Ford, the Yaro comes in any color you like as long as it's black. It looks good. The finish is high-gloss piano and it does indeed shine nicely like a mini-grand piano. With speakers 8.9" x 6.4" x 6.4" that weigh a hefty 3 kg each, the small 2"-high, 47W RMS per channel Yaro amp fits snugly atop one of the speakers for an unobtrusive bookshelf setup.
Hooked up to an Apple TV, we tested the Yaro using lossless songs piped through iTunes. At low volume I thought, "What's so special about this?" With the EQ set to factory setting, the audio was quite treble-rich although not tinny. Bass lacked I thought. Then we started to turn up the amplitude manually via the volume control on the amp. This knob turns round and round and there is no way of knowing when the maximum sound power output will be reached. The volume just steadily increases. And increases.
This amp is deafening. Furthermore, there is no loss of sound detectable anywhere in the mix. The weighty MDF wood fiber speakers hardly even vibrate. They just handle it. There is no distortion whatsoever. From low to high-end, each frequency increases uniformly in volume. On the music we listened to, complete separation of all the instruments was retained even at really high volume.
Then the neighbors from surrounding offices sent someone round to complain about the noise. Apparently the whole street could hear our experiment.
Kanto also offers an add-on 200W sub-woofer in the 130 – 180Hz range, although I'm not sure who would need the extra.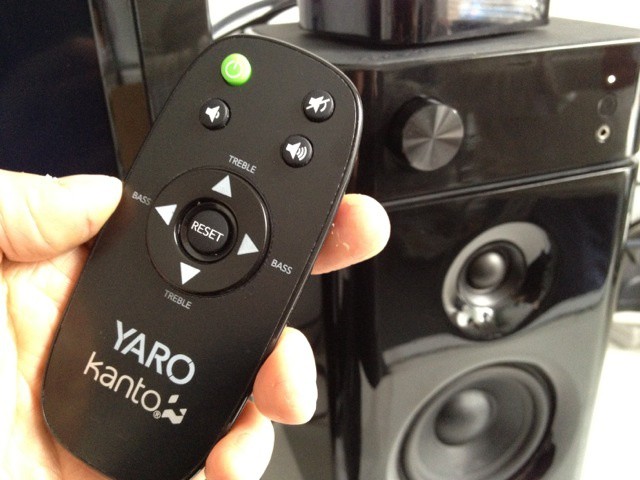 Although the Yaro's bass and treble levels are upped and downed by its remote control, the speaker system will initially adopt the EQ defined by a docked iPod. Bass/treble fine adjustments can then be made by remote.
The Yaro is a great-sounding, compact system, and not at all expensive, especially if you figure in the Bang & Olufsen marque (ICEpower — the B&O subsidiary responsible for the Yaro's audio technology — also produces sound systems for Audi and Aston Martin cars).
The Yaro's simple tone adjustment consisting of bass +/- and treble +/- reminds me of a good car stereo, and to me is much more welcome than a graphic equalizer with many filters or, even worse, having an array of preset EQs for different music genres.
Shame about the choice of colors, though. Kanto speakers come in red and white as well as black options, but the Yaro system is only available in black. I prefer the red, and the lack of alternative hues could influence whether I might buy — despite the great sound and power of this impressive audio set.
Pros Compact, loud, beautiful, great price.
Cons Like the Model T Ford….
[xrr rating=99%]