Have you checked out our new Instagram feed yet? It's pretty sweet and we've been having a lot of fun seeing snapshots of our readers' lives as well as giving you guys some behind the scenes looks at Cult of Mac. This week we were inspired by Austin Radcliffe's blog Things Organized Neatly so we asked our Instagram followers to upload pictures of their Apple products organized neatly and include an #AppleOrganizedNeatly tag so we could share them with the rest of the world. Here's a gallery of the best pictures we saw on Instagram this week:

@gMAPKOB sent in this beautiful picture showing off his red candyshell iMac and iPod Mini playing nicely with Apple's newest products.
Bernie Brayton (aka @axel7bb) went all Inception on us and used a picture within a picture  to showcase his Apple products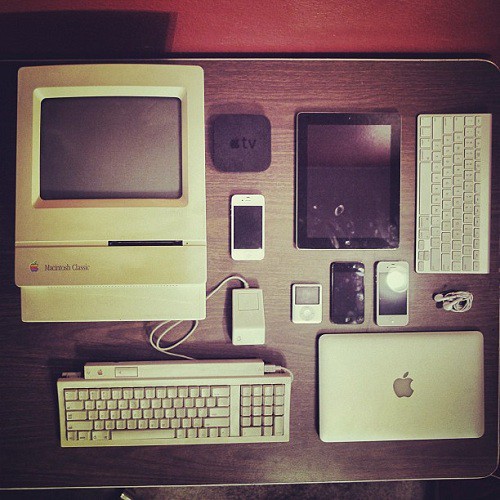 Buster snapped a pic of his Macintosh Classic next to a slew of iOS devices
Can you guess which Apple products belong to these boxes? John Planer (@pnutx007) has the answer for you on our Instagram feed.
Brian Harris Jr likes to collect old Apple user manuals. His current collection includes manuals for 3 Macintosh Pascals, 1 original Macintosh, MacWrite, and ImageWriter II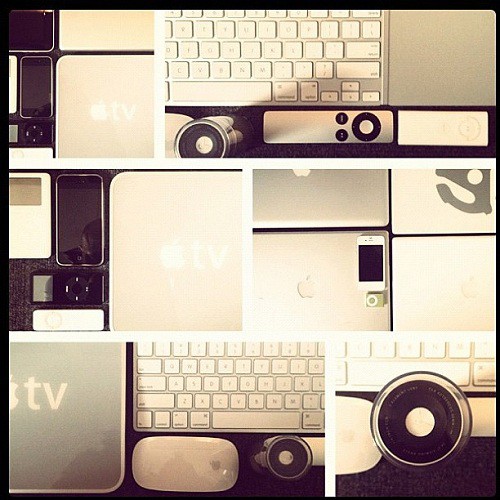 Jason Caldeira (@flycasual) delighted us with this beautifully disorganized view of his Apple products organized neatly.
Erfon Elijah shows off the goodies he carries in his camera bag for CES.
Jbrav0 massacres his iPhone 4 and lays out the guys neatly
@HollieDays use an iPod charging cable to give a rule of thirds effect
Awesome iPod arrangement from @macintoshmatt
Want us to add you to this gallery? Follow us on Instagram and upload your pictures with the tag #AppleOrganizedNeatly. We'll update the gallery with best offerings we find throughout the weekend.
So which picture is your favorite? Let us hear it in the comments.