If you're a Dropbox user, uploading images to your Dropbox account directly from your iOS devices can be incredibly handy. And with QuickShot ($1.99), it couldn't easier. Simply link the app to your Dropbox account and images are automatically uploaded as you snap them.
This is great if you often use public computers and you need to upload multiple images, but you don't want to send them all via email. You can also use the app as alternative to Photo Stream. Sure, Photo Stream's great, but until Apple allows us to delete our photos individually, it's not ideal for everyone.
By uploading your images to Dropbox instead, you have access to them on pretty much all of your internet-connected devices. Here's how to get setup with QuickShot!
First, you'll need to download QuickShot from the App Store. It costs $1.99, but it's well worth it, and it's a universal app that works on the iPhone, iPod touch, and iPad. Once installed, open up the app and tap on the settings icon at the bottom.
Now take the "Link with Dropbox" and then the "Allow" button. If you don't have the official Dropbox app installed, you will have to login with your Dropbox credentials to get linked up. Once complete, you can tap "Done" to return to the app.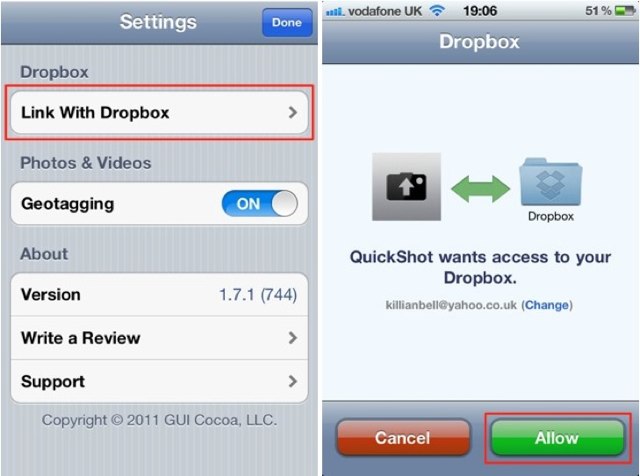 From now on, any images you snap with QuickShot will upload automatically to your Dropbox account. You don't have to do anything but take them. Once they've finished uploading, you'll be able to find them in Dropbox on your computer, on your iOS devices, or on any other device with access to Dropbox.