Apple changed many things on the Finder sidebar with the release of Mac OS X Lion. Probably one of the better changes was how Apple locked down the sidebar. It is now harder to accidentally remove an item from the Favorite section on the sidebar.

If you work in AppleCare or any other kind of support organization you probably want to hug someone for this change, because it probably generated a lot of calls for support in earlier versions of Mac OS X.

This is another simple tip that many new users probably aren't aware of and it is one of a few ways that Apple provides you with the option to remove items from the Finder sidebar. Before this option it was way too easy to just accidentally drag an item off of the sidebar where it disappeared in a puff of smoke. Now you have to work a little harder to remove items.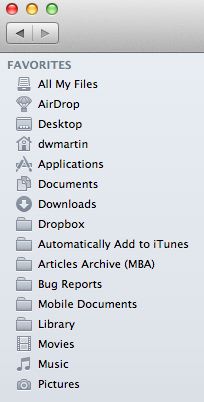 The old drag-to-remove option still works, but not without the Command key. If you click and drag an item off of the sidebar while pressing Command it will disappear in a puff of smoke just like before, but try to drag it off without the Command key and it doesn't go anywhere.
You can also right-click an item in the sidebar and select Remove from Sidebar to remove the item.
No matter what method you use, the fact remains that you won't be accidentally dragging items from the sidebar with a bad slip of the mouse or trackpad.
Thanks for that, Apple!