I recall the time I met someone who was not only vision impaired, but nearly blind. However, their loss of vision didn't prevent them from enjoying computers. Although we were both able to get a lot done, they wouldn't have been able to get as much as I can get done without special tools like a large display with overly magnified and software enhancements on their computer.
Apple's iOS mobile operating system offers nearly the same features to help the vision impaired and even people who depend on reading glasses to see things displayed on the iPhone's tiny display. Here's how to access them.
Launch the Settings app, tap General, tap Accessibility and you will see two options that might help you if you have problems reading your iPhone screen.
Zoom – turning this option on will allow you to quickly zoom in and out of screens by tapping once with three fingers at the same time to toggle the feature on or off. Now double tap again with three fingers, hold and drag up and down to change the zoom level. I really like this feature so much I leave it turned on all the time due to the ability to toggle it on/off easily.
As you can see from the screen shot below there is a lot more that you can do with zoom. You can move the screen around by tapping and holding with three fingers firmly on the screen while dragging.
My most favorite thing about zoom is what happens when you double tap with three fingers and you move them up or down while your fingers are still on the screen. The up or down motion quickly zooms in or out on the screen. Stop and the current zoom level is maintained. When you are ready to go back to a normal screen just double tap again with three fingers.
Large Text – turning on this option will make the text displayed in the Calendar, Contacts, Mail, Messages and Notes apps a lot bigger. You can go from normal (off) sized text to anything from 20pt text to a whopping 56pt text. Definitely handy if you've misplaced your reading glasses or if you are vision impaired.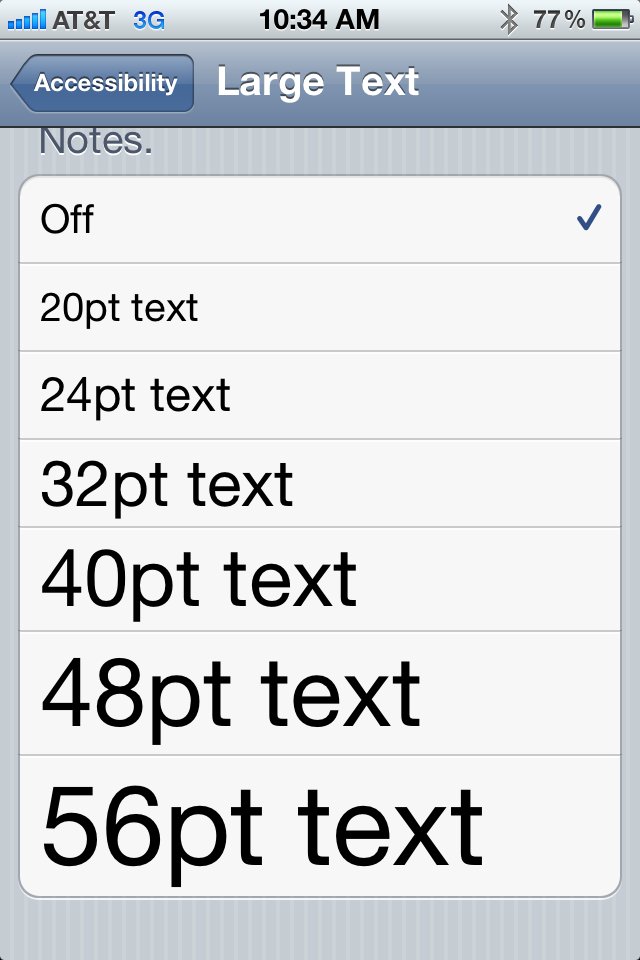 These simple tips about iOS aren't rocket science, but could easily be missed by people due to their location in the Settings app. I cannot tell you how many people appreciated these small tips when I wrote about them a couple of years ago. Now that I'm older and wear glasses (of which there never seem to be enough of them lying around) I am glad to be able to fall back to using these tips to see my iPhone display whenever my glasses aren't around.
Updated 11/17/2011 at 3:24 PM PDT: I restored a few paragraphs that went missing after a technical glitch interrupted my internet connection this morning.