Following Monday's report detailing a new Apple pilot program that will allow online shoppers to collect their Apple order from their local retail store, the Cupertino company has now rolled out the service to stores in San Francisco, California. Orders made online can now be collected — often on the same day, if in stock — from the Chestnut Street, Stonestown and San Francisco Apple stores in San Francisco.
Apple has offered a similar service before, allowing customers to make reservations for certain products online and then collect them in-store, often during busy periods such as the Christmas holidays. However, the new program will allow customers to purchase any one of the thousands of products Apple offers online and have them shipped to their local store, even if that store doesn't normally stock the product that they've ordered.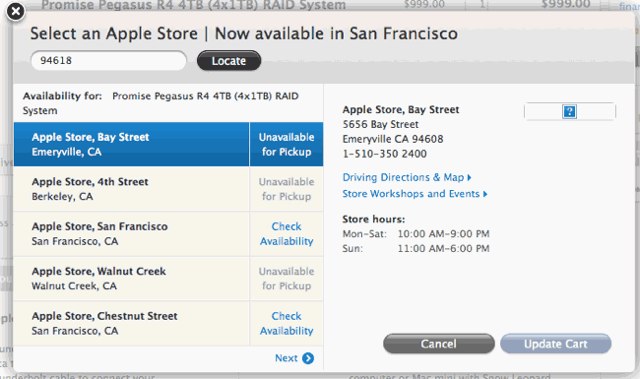 Customers browsing the Apple online store from today will now be greeted with two options before making their purchase: 'Ship' and 'Pick up'. The second of which will ask you to enter your ZIP code and then display a list of nearby stores and the product availability of each. Products "available now" can be collected within the hour, but those that show as "unavailable" indicate that the selected store does not currently support the pickup program. Others will say "check availability" and will allow customers to perform a stock-check which will give them a pickup date.
The service is not expected to remain exclusive to these three San Francisco stores for long; other stores throughout the U.S. are expected to adopt the system "soon," according to Apple's website.
Will you be taking advantage of Apple's new collection service?
[via ifoAppleStore]