Now here's something else you don't see every day: musician and entrepreneur Jean Michel Jarre has introduced the AeroDream One, an 11 foot tall technological marvel that combines an all-purpose iDevice dock and a 10,000W stereo system for the ultimate in colossal home entertainment.

The gargantuan dock stands 11 feet (3.4m) tall, has a diameter of 16.3 inches (415mm) and weighs 871 pounds (395kg). It thoughtfully includes a built in ladder so you can dock your iPhone, iPad or iPod on the top – though how you control them from the couch once they're up there is a bit of a mystery. Other devices can also be connected via the included stereo minijack, XLR line level inputs or a USB port. Cost is €399,000 (about $565,000).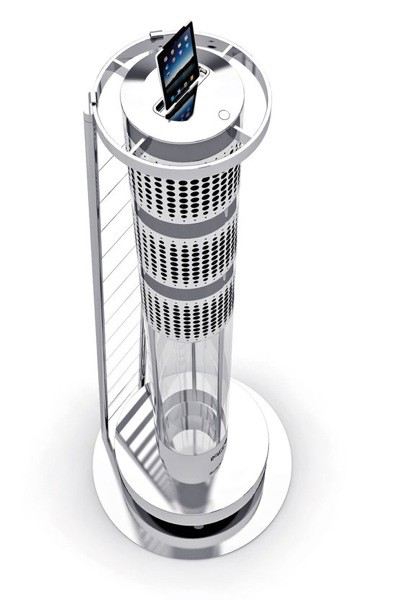 The single column stereo system includes five separate amplifiers (subwoofer, 2 midrange and 2 high end) and is rated from 25Hz to 20kHz. Each AeroDream One is custom built, the company is taking pre-orders now with delivery promised in six months. At the time of its release, Jarre said:
"With the progress of technology, the conditions of recording music in the studio have advanced considerably, whereas the means of listening in general have not ceased to regress: the vinyl has been replaced by the CD, largely inferior in quality, which has now given way to even more low-grade MP3 files. We have progressively lost our emotional rapport with sound."
Customers can choose between 3 different color schemes – chrome, black or white – and will receive two free VIP tickets to Jarre's upcoming World Tour plus get to meet the artist in person.
For those with less lofty ceilings and budgets, the company also offers the smaller AeroSystem One mini-tower dock for iPhones or iPods at €799 ($1,140). iPad owners with smaller (but still ample) budgets and no electricity may want to check out the iVictrola iPad dock as an alternative…
[via LuxuryLaunches]