Apple has come a long way since the 1970s. While the Mac was seen for years as a niche product that would never appeal to a mass audience, Apple has just been declared the third largest PC vendor in the US.
Apple went from fifth place to third this business quarter with a 10.7% stake in the US PC market.
MacRumors sends along a report from the Gartner and IDC research firms that shows Apple's increase in overall PC market share on a domestic and international level.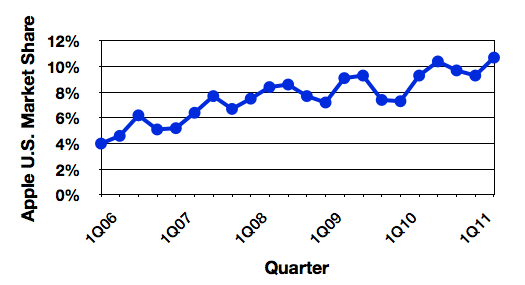 The rest of PC vendors, including Dell and HP, saw a 4-6% decrease in US sales last quarter. Apple saw its best quarter yet for the Mac with a 10.7% share of the market. This number is up from 8.5% last year.
Gartner actually blames the iPad for the PC market's overall decrease in sales.
"Given the hype around media tablets such as the iPad, retailers were very conservative in placing orders for PCs. Instead, they wanted to secure space for media tablets. Some PC vendors had to lower their inventory through promotions, while others slimmed their product lines at retailers," [Gartner analyst Mikako] Kitagawa said."
The iPad has seen phenomenal success in both the US and international markets. While the 'magical' tablet is not classified as "PC," it remains indirectly responsible for a drop in PC sales. It's forecasted that Apple sold up to 9.5 million iPads in the last business quarter alone.
Apple now sits under HP (26.9%) and Dell (22.6%) as the nation's third largest PC company. Apple's success in retail is a huge factor in the company's overall market traction.
While Apple slowly but surely gains more share in the market, other PC vendors are on a steep, 5.6% decline. Toshiba was the only other company to increase its year-to-year shipments with Apple.
"Innovation distinguishes between a leader and a follower." – Steve Jobs