It seems ages ago when folks were yukking it up with the feminine hygiene tees about the newly-baptized "iPad." That name now seems so associated with Apple that it's hard to imagine it with anything else.
What about iCloud? This simple moniker was in the air, as it were, since Apple bought the .com domain from Xcerion who used it for their CloudMe software, (now available over at www.cloud.me).
The website of iCloud Communications (see below) just set its lawyers on Apple for trademark infringement over the name which the Dallas company says it has been using since 2005.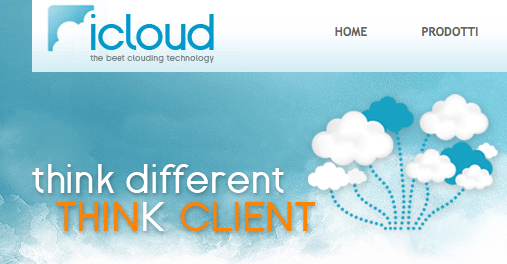 There are a bunch of other things called iCloud that are not associated with Apple. More lawsuits to come?
1. iCloud.edu. The online presence for Cloud County Community College.
What they do: "The mission of Cloud County Community College is to be responsive to the educational, social, economic, and cultural needs of all the people of north-central Kansas, by providing lifelong educational and learning opportunities, whose quality is established by rigorous and ongoing assessment."
2. iCloud VOIP
What they do: "Rapidly advancing VoIP services offer more flexibility, save businesses thousands and deliver the richest features ever. Using the latest in broadband technology, iCloud maximizes your telephone and Internet performance for pennies a day."
What they do: Corporate IT solutions provider
"If I had asked people what they wanted, they would have said faster horses.
– Henry Ford. iCloud Technologies walks in the path of Henry Ford to give you
more than you would expect."
4. iCloud from Inframon the System Center Specialists. Other i-based services offered by the company include iConsult, iKnow, iManage and iPacks. (Is iNeedaLawyer next?)
5. iCloud, an Italian distributor of thin clients with the intriguing URL "icloud.it"
Do you expect a rosy future for lawyers on both sides or will cases fizzle out as Apple becomes the recognized brand associated with the name?