(You're reading all posts by Charlie Sorrel)

About Charlie Sorrel
Charlie Sorrel
is the Reviews Editor here on Cult of Mac. Follow Charlie  on Twitter at 
@mistercharlie
.
(sorry, you need Javascript to see this e-mail address)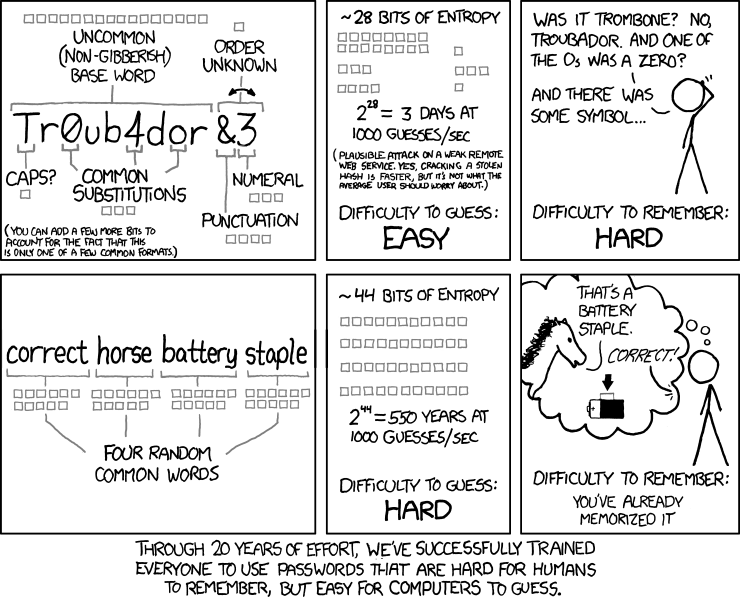 Apart from "correct horse battery staple," the most secure passwords aren't words, they're phrases. You don't even need crazy symbols or hard-to-determine numerals (is that an l or a 1, a 0 or an O?) – just a good, longish phrase made out of words.
And now you don't even have to make one up. Using the XKPasswd generator, based on but not associated with Randall Munroe's amazing comic strip XKCD, you can generate secure pass phrases easily.
The worst thing about losing a lens cap is having to buy another one. You can go with a generic but ugly replacement and save a few bucks, or you can buy the manufacturers official version, which will make you hate yourself.
Now there's a third option – don't lose the cap in the first place. Instead, spend $10 now on Photojojo's Hufa Lens Cap Strap Holder, and never buy a cap again.
Unless you're a hipster – you can still buy as many sweet ironic trucker caps as you like.
I wonder why every backpack doesn't use a roll-top. They're waterproof, they're mechanically simple (and therefore they never go wrong), they let you extend the size of the bag and they form a handy grippy handle.
They also look cool, and the Becket bag has one.
710 byBraven
Category: Speakers
Works With: Anything with Bluetooth
Price: $170
Braven's 710 Bluetooth candybar speaker has a lot going for it. It's the same size as my favorite pocket speaker ever, the Braven 650. It's made of aluminum, it has the same battery-sharing tech as all the other Bravens, and it even fixes some of my complaints about the 650 – it has proper buttons for volume and play pause.
Hell, it's even waterproof. But there's one thing that isn't quite so good. It doesn't sound as good as the 650. Not by much, but enough that you should still buy the 650 – unless you want to use it in the shower.
PhotoFlip has the beginnings of a great idea, let down by poor implementation. Here's the idea: The app lets you add notes to the photos you have in your iPhone camera roll, without copying those images. That is, the pictures stay in your regular photo library, and the app just displays them with your text note added underneath.
It's a great idea right? It uses almost no storage, and doesn't double up on picture libraries. You can even snap photos from within the app and they're saved ion the regular camera roll, and everything is synced via iCloud (if you want anyway).
So what's wrong?
Ever been on a plane and seen some suit squished into his chair, browning his ThinkPad's screen with his office breath and lining up some pictures and text on a PowerPoint slide? "Jeez," you think. "Not only is this dork-o inflicting yet more PowerPain on the world, but he thinks it's important enough to do on a plane."
Next time you see one of these sad specimens, you might point them in the direction of Deckset, a slideshow maker that works using Markdown.
Would you pay $39 for the convenience of a front-facing USB port in your iMac? If so, you're gonna love the iMacompanion, which is simultaneously one of the neatest widgets ever, and one of the worst-named gadgets in history.
The little Luxi turns your iPhone's front camera into a light meter. A what? A light meter, a device that measures the amount of light falling on a subject so that you can set the exposure correctly on your camera.
But wait, doesn't you camera already set its own exposure? Doesn't it have a light meter built in for when i want to kick it old school in manual mode? Yes and yes, but this $30 widget might still be handy.
Yes, we're reviewing a paper notebook. The thing is – spoiler – this one is awesome. Forget Moleskine, which is nice marketing wrapped in faux leather wrapped around thin, porous, easy-bleeding pages. The Baron Fig Confidant is what you want.
The Confidant by Baron Fig
Category: Notebooks
Works With: Pen or pencil
Price: $16
It's packed with clever "features," and yet you don't notice the book at all when you're using it. Does any of that sound familiar to you Apple users?
Lightroom for the iPad is here. It's called Lightroom Mobile, and it runs smoothly on anything down to an iPad 2 (or first-gen mini). You can use the app to edit and organize any photos in your Lightroom collections, and it syncs automatically (and near instantly) with Lightroom on your desktop (you'll need to upgrade to v5.4).
And the price? It's free, but only if you already subscribe to Adobe's $10-per-month Photoshop Photography Program, which also gets you the desktop versions of Photoshop and Lightroom. There's also a 30-day free trial to check it out.
So how does it work? Lets take a nice long look.