(You're reading all posts by Charlie Sorrel)

About Charlie Sorrel
Charlie Sorrel
is the Reviews Editor here on Cult of Mac. Follow Charlie  on Twitter at 
@mistercharlie
.
(sorry, you need Javascript to see this e-mail address)
I like this Hammerhead Lightning cable for two reasons: it's red, and the cable is flat. Actually, make that three reasons – it's called the Hammerhead, like the frikkin shark.
Gusto is yet another iPhone email app that promises to fix your email, and it looks pretty good. It's Gmail-only and iPhone-only, and its gimmick is that it separates your mail messages into categories according to their attachments. It also has killer search capabilities.
There's something totally perverse about putting a crappy Lomo lens on your Leica M-series camera. After all, the Leica might be a glorious box which makes it super easy to take great pictures, but it really is just a box for holding Leica's extraordinary lenses.
Thankfully, the new Lomo Russar+ also fits other bodies, using adapter mounts.

Ever looked at a column of numbers on your Mac's screen and wished that they would just add themselves together already? I do. Ever since my "special" cat died, I've been adding things up manually.
My cat, who was called "Rain Cat," used to take one look at a page full of numbers, twitch its cute little head a few times, and then tap out the answer with its paw. Admittedly, getting the answer usually took longer than doing it myself on a pocket calculator, and sometimes Rain Cat would fall asleep in the middle of a particularly long answer, but it was pretty convenient most of the time.
Now, Rain Cat can be replaced with Brett Terpstra's Total Number service.
Here's how to do Spotify voice search on the iPhone or iPad.
Tap the search field in Spotify
Tap the Siri dictate button on the keyboard
Say the name of whatever you wan to hear
Tap Siri button again
Browse results.
Alternatively you can buy the new Vela app for $0.99, and skip all the tedious screen tapping.
Oh man, I just can't wait for this week to be over. First the entire Internet turns out to have been broken for the last two years. Then Dropbox hires Condoleezza "Cruella De Vil" Rice to help out with security. And now Amazon has bought out ComiXology, the digital comic book store/platform.
I'm ready for the weekend.
Look at this graph. Just look at it. The colored section represents all color visible to the human eye. The large black triangle shows the Adobe RGB color space, which is the space used by pro apps to process images, and can be captured by some cameras.
And the little white triangle, sat in the middle cutting out a fraction of the available colors? That's the standard sRGB color space, which is what you're looking at now on your Mac or iPad or iPhone (but probably not on the Retina iPad mini).
That's because monitors don't usually display so many colors. But the Eizo ColorEdge CG247 not only displays the full gamut of Adobe RGB, it calibrates itself too.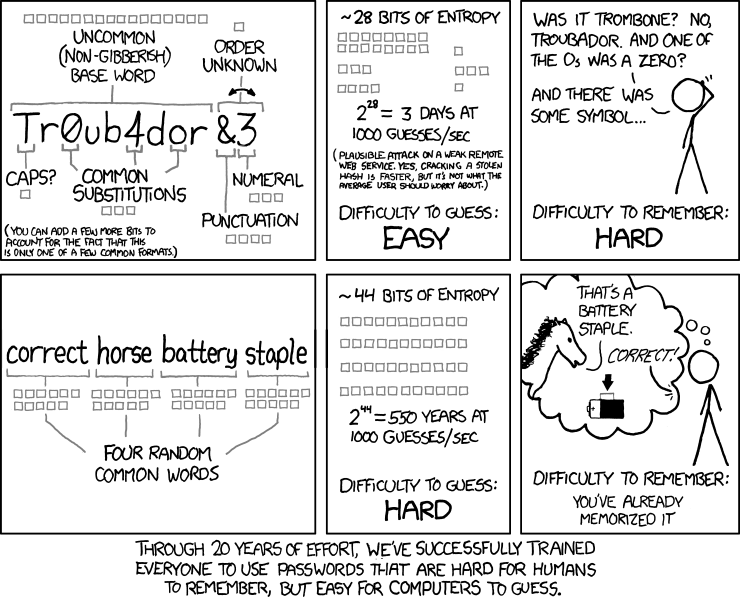 Apart from "correct horse battery staple," the most secure passwords aren't words, they're phrases. You don't even need crazy symbols or hard-to-determine numerals (is that an l or a 1, a 0 or an O?) – just a good, longish phrase made out of words.
And now you don't even have to make one up. Using the XKPasswd generator, based on but not associated with Randall Munroe's amazing comic strip XKCD, you can generate secure pass phrases easily.
The worst thing about losing a lens cap is having to buy another one. You can go with a generic but ugly replacement and save a few bucks, or you can buy the manufacturers official version, which will make you hate yourself.
Now there's a third option – don't lose the cap in the first place. Instead, spend $10 now on Photojojo's Hufa Lens Cap Strap Holder, and never buy a cap again.
Unless you're a hipster – you can still buy as many sweet ironic trucker caps as you like.
I wonder why every backpack doesn't use a roll-top. They're waterproof, they're mechanically simple (and therefore they never go wrong), they let you extend the size of the bag and they form a handy grippy handle.
They also look cool, and the Becket bag has one.